One of the hardest things about being away from home for a long stretch of time is the feeling that your family and friends can't know your life like you want them to. No matter how many details you try to give about the things you are doing or people you meet, any description seems unsatisfactory. This is because it's the small things which make up your day far more than the big ones – things that get forgotten but which make a moment. The people at home miss the changes in your mood, the times you think out-loud; they access your life only in a mediated way – you telling your week as a kind of story; everything becomes a translation of the reality.
These stories are better than nothing at all (thank you Whatsapp video call), but spoken words seem to lose some of their power when they travel 11,000 miles. It's the ocean: it can only carry things you can see across the world, like little boats, but feelings get lost under the waves. This also may be one of the best reasons to travel with another person – someone else who knows the experience you're having; who can appreciate it to the same extent. You can only share as much as you can with your family and friends, and tell them you're having a great time. Hopefully when you get home, they'll be able to see this time away in you as a person.
Below is a little poem written about the Abel Tasman – maybe best shows a feeling.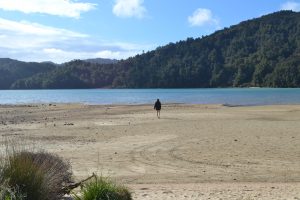 Mermaid Waters
Some pleasures in life are small
Peanut crunch on Vogel's toast
Sun on face, smile
At silly joke shared.
Others are too big for words
They just make you cry:
It's blue, sand, green
And sky but too much more
Don't try to describe the peace
Of an undecided tide
Melting your soul into the moment
It asks nothing of you
But offers itself up – simple generosity
And tells you that some
Waters make you a mermaid
Find them