As two young girls travelling, you are put into a box, and that box is the Kiwi Experience bus. This is not to criticise Kiwi Experience or other touring groups. For lots of people it's the perfect way to travel – hitting all the top spots with a group of like-minded individuals. It makes life easier and can be incredibly fun. However, it's frustrating when people assume that all young travellers want the same thing (to avoid locals on buses), and that we are willing to pay for the easy way.
When we started planning our trip to Abel Tasman National Park, an expensive tour seemed like the only option. It was roughly NZ$1000 for a 3-day trip. This was beyond our budget, and it wasn't even what we wanted – we imagined exploring the park at our own pace, with the freedom to chose our own lunch-spots. After hours of trawling through google searches, we came across the New Zealand Government website. Here we could book our hut accommodation for each night (NZ$300 for 4 nights/5 days), and download a simple map of the coastal track. * When you are in one of the most beautiful parts of the world, NZ$75 for a night in a hut is an absolute steal. † We then just needed to book a bus to the start of the track (Marahau), and hire a sleeping bag and gas cooker (all done from Nelson).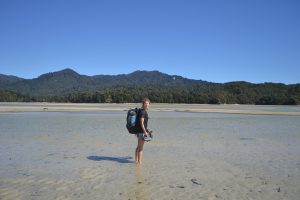 But even people we met along the walk seemed surprised that two young girls were doing the full 5-day track, carrying our own gear on our backs. Yes, some of the hills were hard work and the bags caused minor shoulder strain. But that's part of the experience. And swimming in the bluest water imaginable is only made better by weary legs and the prospect of instant noodles. Sometimes the easiest route isn't the best, whether that's a package tour which drops your bag at every location, or a hop-on-hop-off bus which allows you to escape interaction with anyone dissimilar to your home friends.
Of course, everyone enjoys different experiences, and sometimes a tour guide is exactly what you want. This is just to say young travellers don't have to be "the Kiwi Experience kind of girls" (quote unnamed travel agent) – the implication being we need a certain level of comfort. Sometimes it's about making the most of the freedom travelling gives you.
*Map not needed – it's one long path with signs!
†Camping available for NZ$30 a night.