A Dutch girl and an English girl meet in a hostel and decide to drive down the East Coast of Australia…
One week ago, Elke and I were about to find out the punchline to this story, setting off from Cairns in our red van (unimaginatively named Rouge). After knowing each other for less than 24 hours, we'd hired a campervan, and booked AU$1000 worth of tours together, trusting on a gut reaction that something was special about this new friendship. Luckily, we were right – so much so that this week could only be described as one of the best of my life.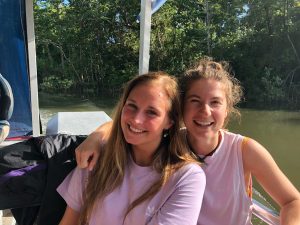 Yes, we've dived in the Great Barrier Reef, driven scooters around Magnetic Island, and spent two days and nights on a sailboat in the Whitsunday Islands – it doesn't really get more magical. But these days need time to be savoured and appreciated, before they run away from under your feet in a blur of sand, sun, and beauty. When doing a big trip like the East Coast of Australia, it's hard not to be overwhelmed to the point that the extraordinary starts to become ordinary, particularly when there are certain sights which draw thousands of people to them daily. So, it's been the moments eating dinner on the beach, driving into the sunset to a song, doing laundry or shopping for groceries, that have kept us grounded and able to take in the awesomeness of what we're doing – moments that can feel just as special as that swirl of white sand and turquoise sea because they're shared with someone who understands.
When I came to Australia, I never considered that this travel experience could compare to my time with Hayley in New Zealand. Of course, it is new in lots of ways, with different people and different places. However, in the small but most valuable ways, it feels familiar, with someone to share this time with who sees the world as you do; who you can teach and learn from to the same extent, and love for your similarities and differences.